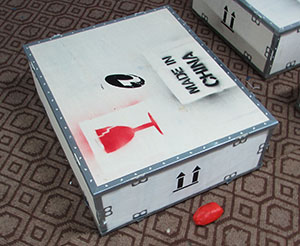 Who moved my kiosk?
Brief:
A self-service kiosk provides a great deal of advantages over traditional storefronts. It is cheaper, mobile and allows you to present simple, concise branded messages.
A self-service kiosk provides a great deal of advantages over traditional storefronts. It is cheaper, mobile and allows you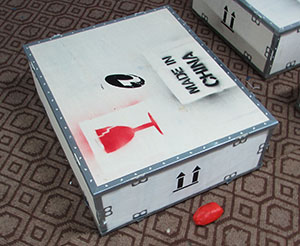 to present simple, concise branded messages. The brand recognition of kiosks such as RedBox and Coinstar speaks to the medium's effectiveness. However, there is a potential pitfall with kiosk deployments, and that is what happens prior to deployment: storage and transportation. If you don't follow certain protocols, you can end up with a broken, dysfunctional kiosk. If the kiosk is damaged during transit or storage, you will have to answer the question, "Who moved my kiosk?"
Before you start thinking about shipping your kiosk, you have to consider the manufacturing process. For example, do you plan to mass produce a large quantity of kiosks, or will each kiosk be made to order? If the kiosks are produced in bulk, you might have to keep some in storage and prevent wear and tear. According to James Gregorie, director of digital marketing and business development at Swift-Protech LLC, his company has produced many indoor kiosks in bulk, but has also manufactured made-to-order outdoor kiosks as those usually require specific parts to deal with the elements.
Next, you have to consider how you are going to keep moisture out of the kiosk. This can be an issue in storage and in deployment of outdoor kiosks. Moisture can lead to rust and can ruin the internal parts of your kiosk. "Moisture is a big issue, especially with larger kiosks, and if you have large swings in temperature that can cause condensation," Gregorie said. One way to prevent this issue, whether your kiosk is in a warehouse or outdoors, is to utilize a dessicant.
A dessicant is essentially any material that can be utilized to preserve dryness. A simple form of a dessicant would be the inserts that are found inside new shoes. Dessicants essentially prevent materials from chemically combining with water, which leads to absorption and damage, according to Sorbent Systems's website.
"Most desiccants don't chemically combine with water or the other substances they're present to protect against," Sorben Systems's website says. "They capture them through adsorption, and stow them away where they can't cause harm to the product." Hence, a dessicant can help keep damaging moisture out. According to Gregorie, his company utilizes a 40-inch roll to keep off excess moisture.
Finally, you need to consider how to keep a kiosk safe while in transit. First, you need to make sure it is secure. One way to do this is to attach it to a pallet with a steel base, according to Gregorie. The steel base gives you a platform to which you can strap the kiosk in place.
"We will generally build a crate for each of the kiosks to make sure it doesn't jostle," Gregorie said. In addition, you can place some sort of plastic wrap or foam in the crate to prevent any damage from bumping around while in transit.
All things considered, good shipping and storage protocols are essentially preventative maintenance. While it may be time consuming, it ultimately saves you from the embarrassment and cost of fixing or replacing broken, rusty kiosks.